Home »
Baggage Allowance
Baggage allowance can be complicated, varying according to routes and class of seat and taking into account the weight and dimensions of bags, how many bags, and extra allowances. In general, excess baggage and special items can be carried for an additional fee.
We always recommend that you get to know your airline carriers baggage allowance. Even if you are a frequent flyer it is good to check beforehand just what the latest allowances are. For example, in recent years baggage allowances have changed with most major airlines. You do not want to get to the airport only to be charged for excess baggage weight.
Therefore, take note of what baggage allowance is currently offered by the airline you are booking with. During the flight booking process, the restrictions are made plain and you are allowed at this stage to buy extra luggage to put into the hold of the aircraft.
Airlines are strict on baggage allowance.
Therefore, you need to consider the weight and also the size of your luggage. Arriving at the airport knowing you are not meeting the requirements of your baggage allowance only adds stress to your journey. For example, baggage is now seen by some airlines as a highly profitable source of revenue.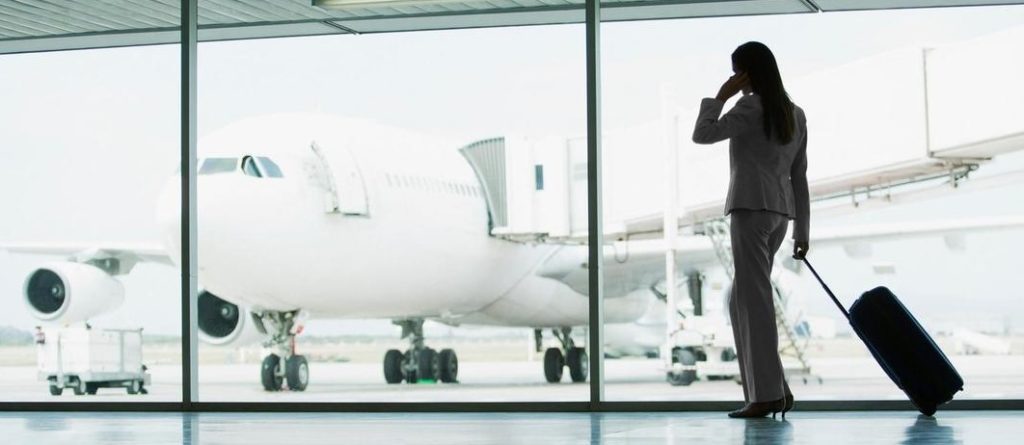 Cabin Baggage/Hand luggage
This is luggage that you can take on board the airplane with you. Cabin baggage allowance varies slightly between each of the carriers. It is therefore important that you check the exact baggage regulations of the airline you are travelling with. As we noted earlier, it is good to review their allowance each time you fly as these can change.
Most carriers have a strict one-piece of hand luggage rule. The size of the cabin luggage also varies slightly with each airline. Other airlines allow one piece of luggage plus a smaller bag. For example, a ladies handbag may be allowed or a laptop case may be allowed along with the cabin luggage. A standard size Duty-Free bag containing goods bought at the airport may be allowed as an extra bag or you may be required to put it in your hand luggage case.
Some airlines are only concerned with the dimensions of your hand luggage while other carriers have a weight restriction on hand luggage. Our advice is always to check what the current regulations are. Also, remember that the handles and wheels are included in the measurement.
Tip: Weighing and measuring your luggage at home often gives you peace of mind and allows you to make any adjustments without the pressure at the airport. For example, if your hand luggage exceeds the maximum weight or dimensions, you will have to check it in as hold luggage. This is time consuming and expensive, as the airlines tend to charge a much higher price for hold luggage that is purchased at the airport rather than booked in advance.
It is good to bear in mind that on a busy flight, you may be forced to put your hand luggage in the aircraft hold.
This would be because there may not be enough space in the overhead lockers for all the luggage in the cabin, due to the volume of passengers on the flight. They will not charge you to put your hand luggage in the hold. However, you may have items in your hand luggage that cannot go in the hold. Therefore it is a good idea to put any such items within easy reach in your luggage so you can quickly take them into the cabin with you.
If you are in doubt regarding what items you are allowed to carry in your hand luggage for safety reasons, please also see our page EU cabin regulations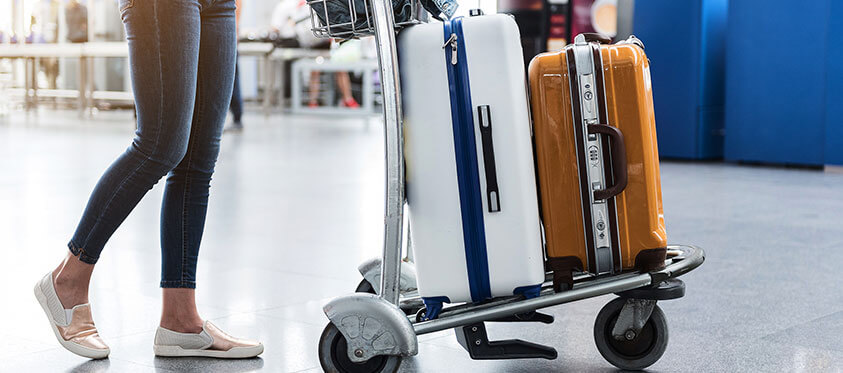 Hold luggage/Check-in luggage
This is luggage that you leave at the check-in desk and it goes in the aircraft hold department. Check with your airline and at the time of booking what their luggage allowance is are for your check-in luggage.
Again it is best to weigh your luggage before leaving for the airport. Do not be tempted to go over the weight allowance. They will weigh the luggage at the check-in desk and will charge you per kilo if over the allowed weight.
If you need more information about what you can or cannot take in your luggage that will be going in the hold of the aircraft please read our page EU Cabin Regulations
---
Ryanair
RYANAIR
Cabin Bags
You are allowed to bring one small personal bag on board measuring 40cm x 20cm x 25cm free of charge. This must be able to fit under the seat in front of you.
If you want to bring two bags it is best to buy this at the time of booking. From the UK this is currently just £6 to bring a 10KG bag 55cm x 40cm x 20cm which can fit in to the overhead locker and also the small bag. Also this allows you Priority Boarding.
Duty free bags are permitted in the cabin along with your cabin baggage.
Hold Luggage
There is a new 10KG check-in hold bag allowance. This allows you to bring a 10kg bag which must be dropped off at the check-in desk.
You can also purchase up to three checked bags of 20kg for the hold for a fee.
---
Easyjet
EASYJET
Cabin Bags
You can take one cabin bag on board with a maximum size of 56cm x 45cm x 25cm, including wheels and handles. There is no weight restriction but should be able to lift it into the overhead locker comfortably.
Hold Luggage
You can buy up to three hold bags. A standard hold bag is 23kg. If you need to go over this weight they allow you to buy extra weight in 3kgs units, up to a maximum of 32kg per bag. This is the maximum weight per bag due to safety reasons.
If you're travelling in a group or with friends on the same flight and booking, you can pool your total weight allowance.
---
British Airways
BRITISH AIRWAYS
Cabin Bags
Their allowance varies depending on your destination. Please check on the British Airways website, but generally you are allowed to bring one handbag/laptop bag up to a maximum of 23kg and up to 40cm x 30cm x 15cm also one additional cabin bag with a maximum weight of 23kg and up to 56cm x 45cm x 25cm in size.
Hold Luggage
Like with cabin bags the amount of hold luggage each passenger is entitled to varies depending on your destination and ticket type. A checked bag cannot exceed 90cm x 75cm x 43cm in size, including handles, pockets and wheels. A weight limit applies to each bag depending on your ticket type. (Basic, Economy, Premium, First Class, Business Class). With this airline it is not possible to split the total weight across multiple bags.
---
Jet2
JET2
Cabin Bags
You are allowed to carry one piece of hand baggage on board their flight. A maximum weight of 10kg applies and it must be no bigger than 56cm x 45cm x 25cm. They will also allow a small handbag or laptop bag provided it can be stored under the seat in front of you.
Hold Luggage
Passengers can check-in up to three 22kg pieces of checked-in baggage per person. The price varies depending on your route and destination. If booked online it is considerably cheaper than buying at the airport. If your hold bag exceeds the weight allowance of 22kg, excess baggage charges will be applied.
---
Norwegian Airlines
NORWEGIAN AIRLINES
Cabin Bags
A passenger can bring one cabin bag on-board measuring no more than 55cm x 40cm x 23cm weighing between 10kg-15kg depending on your ticket type. Also you are allowed one small personal item with you with a maximum size of 25cm x 33cm x 20cm. For example, a small handbag, or a laptop case that can fit under the seat in front of you. Please check your ticket type as this will determine how heavy your hand luggage can be.
Hold Luggage
Again depending on your ticket type this will determine if checked baggage is included, or whether you'll need to pay extra in order to get a larger baggage allowance. Each bag must not exceed 32kg in weight and must not exceed 250cm x 79cm x 112 cm with a maximum circumference of 300cm.
---