Car hire at
Gran Canaria
Airport
Compare in 60 seconds the best car hire rates at Gran Canaria Airport
Low-cost Gran Canaria Car Rental
Compare ALL Autumn 2023 Gran Canaria car hire!
Special deals from just €9 a day
Free cancellation & upgrades
Car hire at Gran Canaria airport with Avis, AutoReisen, Enterprise, Eurocar, Goldcar, Hertz, Interrent, Rhodium, Sixt, Thrifty, Top Car are all located inside Las Palmas Airport. Use the search box above to lock in the best Autumn 2023 prices from the major suppliers. Many of the car hire offices are located inside the arrivals hall on the ground floor.
In the slider below we show some examples of daily car hire prices with the best car rental companies at Gran Canaria Airport. The daily car rental prices are based on hiring a car in Winter (peak season) for a period of 14 days. Use the Search box above to find the best rates for car hire from the airport. If you want to collect a car from Gran Canaria Las Palmas Airport for Autumn/Winter 2023, it's considerably better to book ahead of time online. This allows you to read the fine print for hidden extras without being pressured by a salesperson.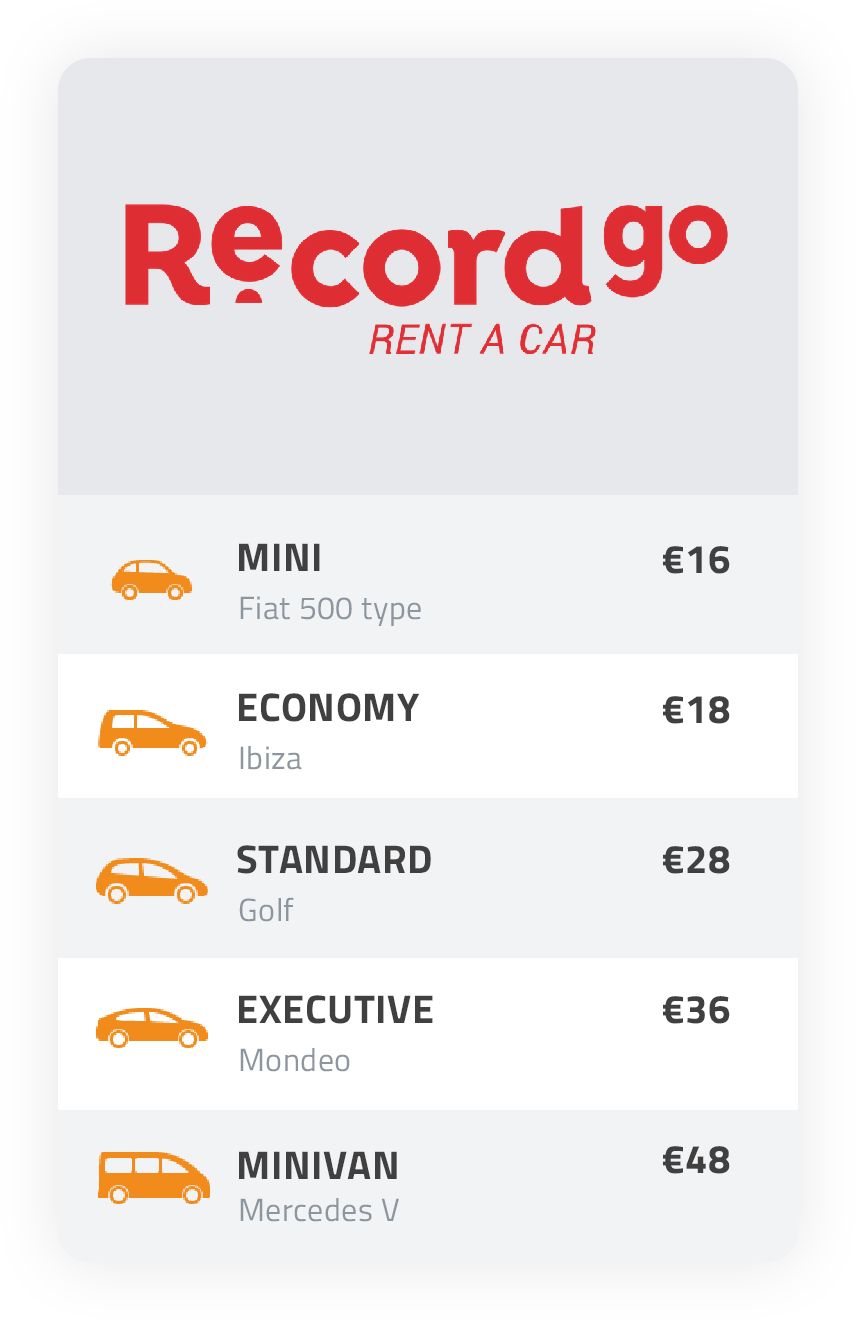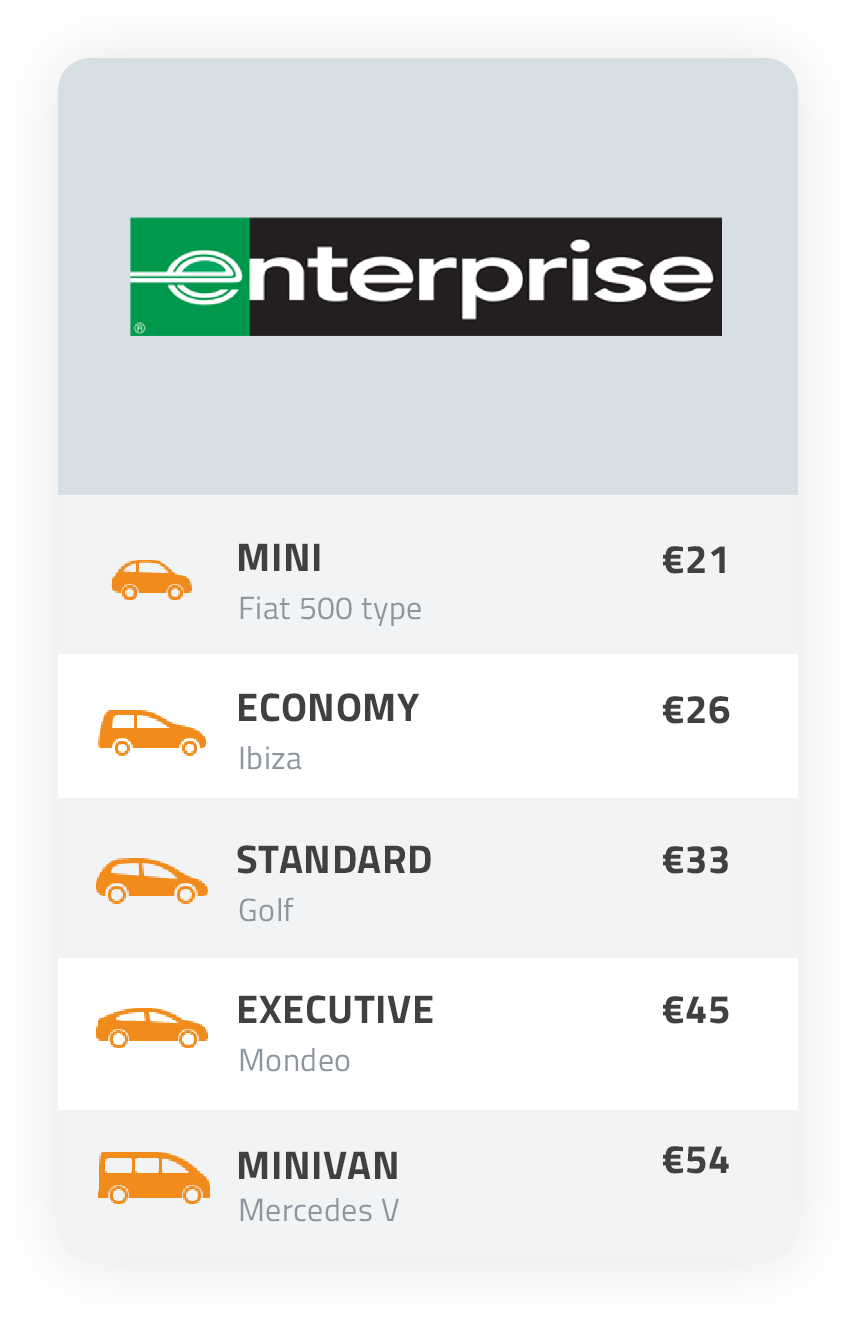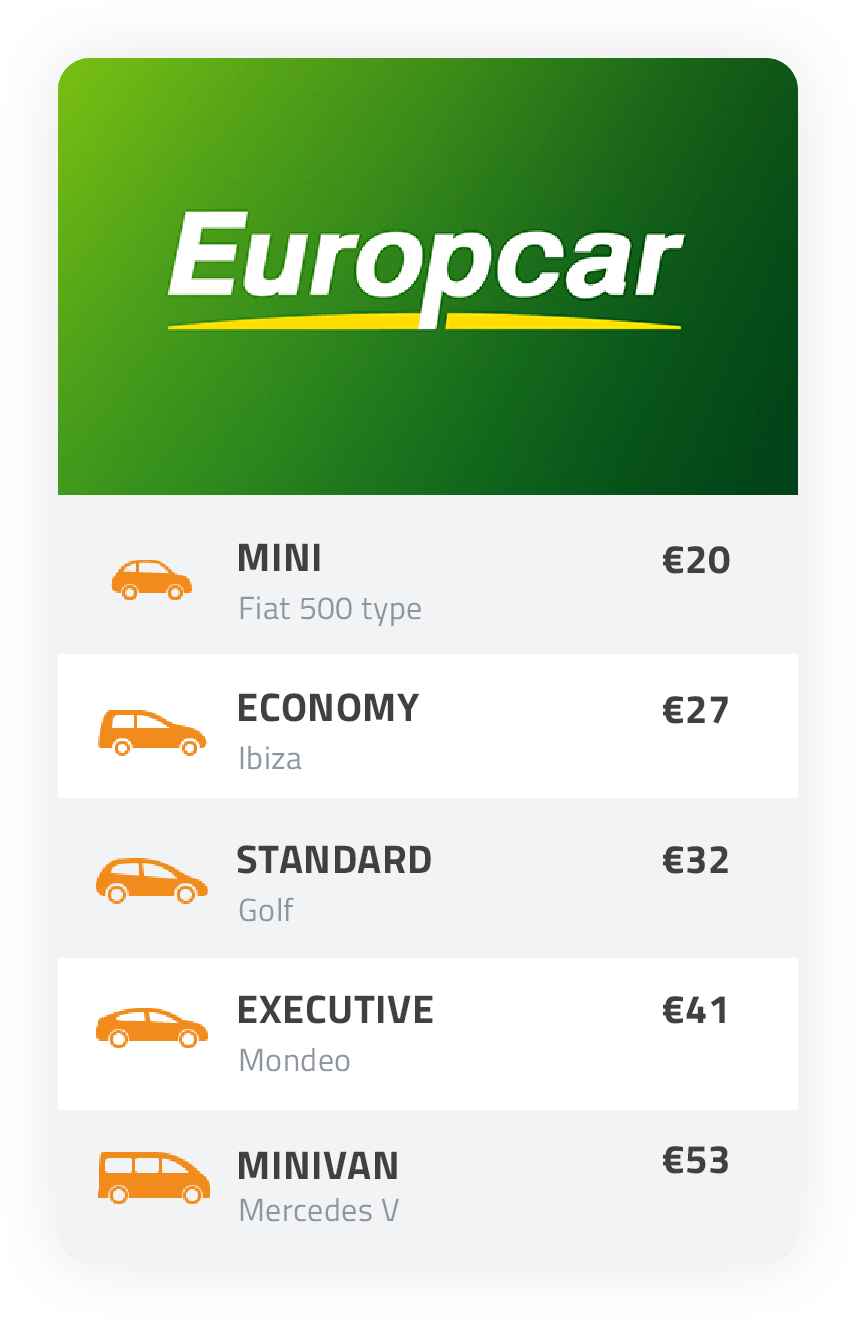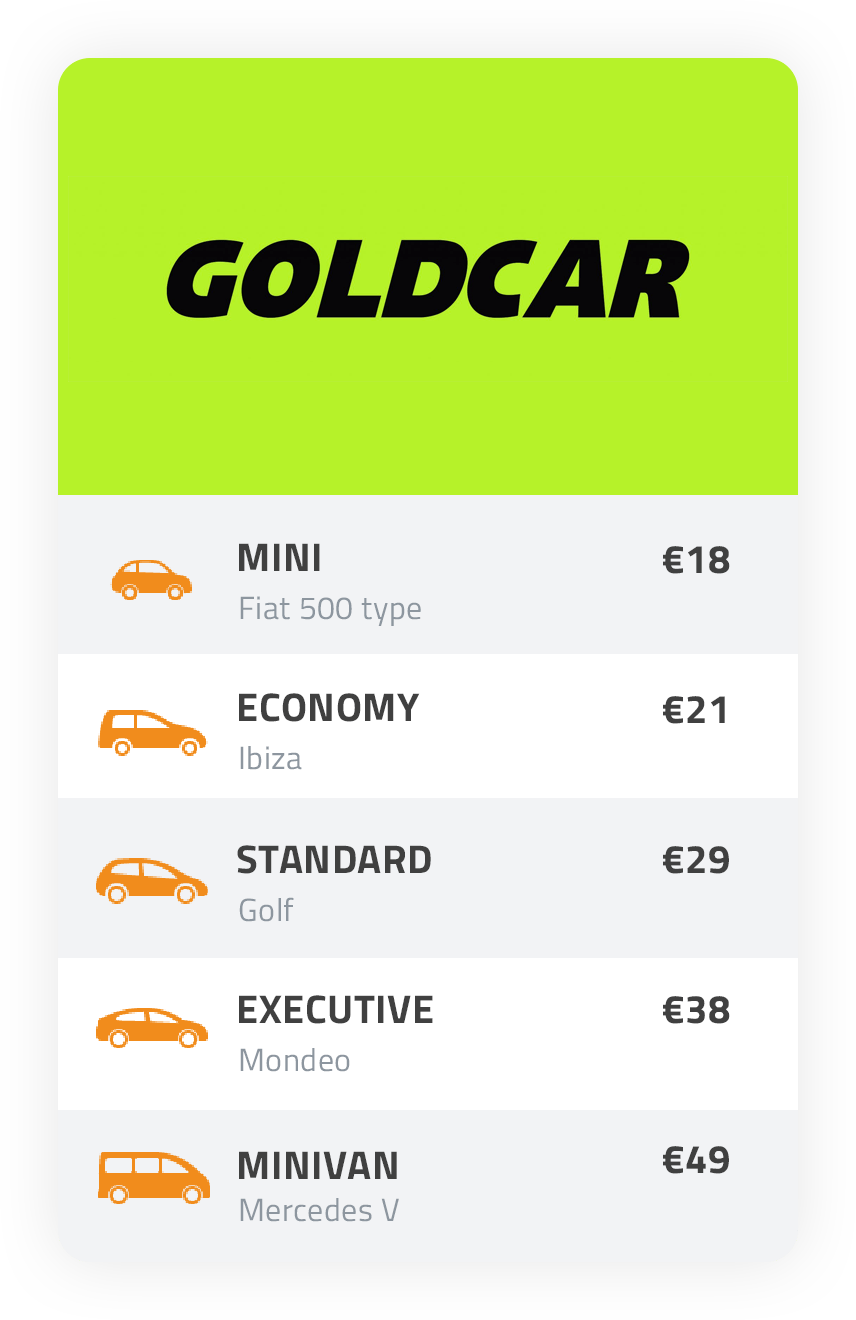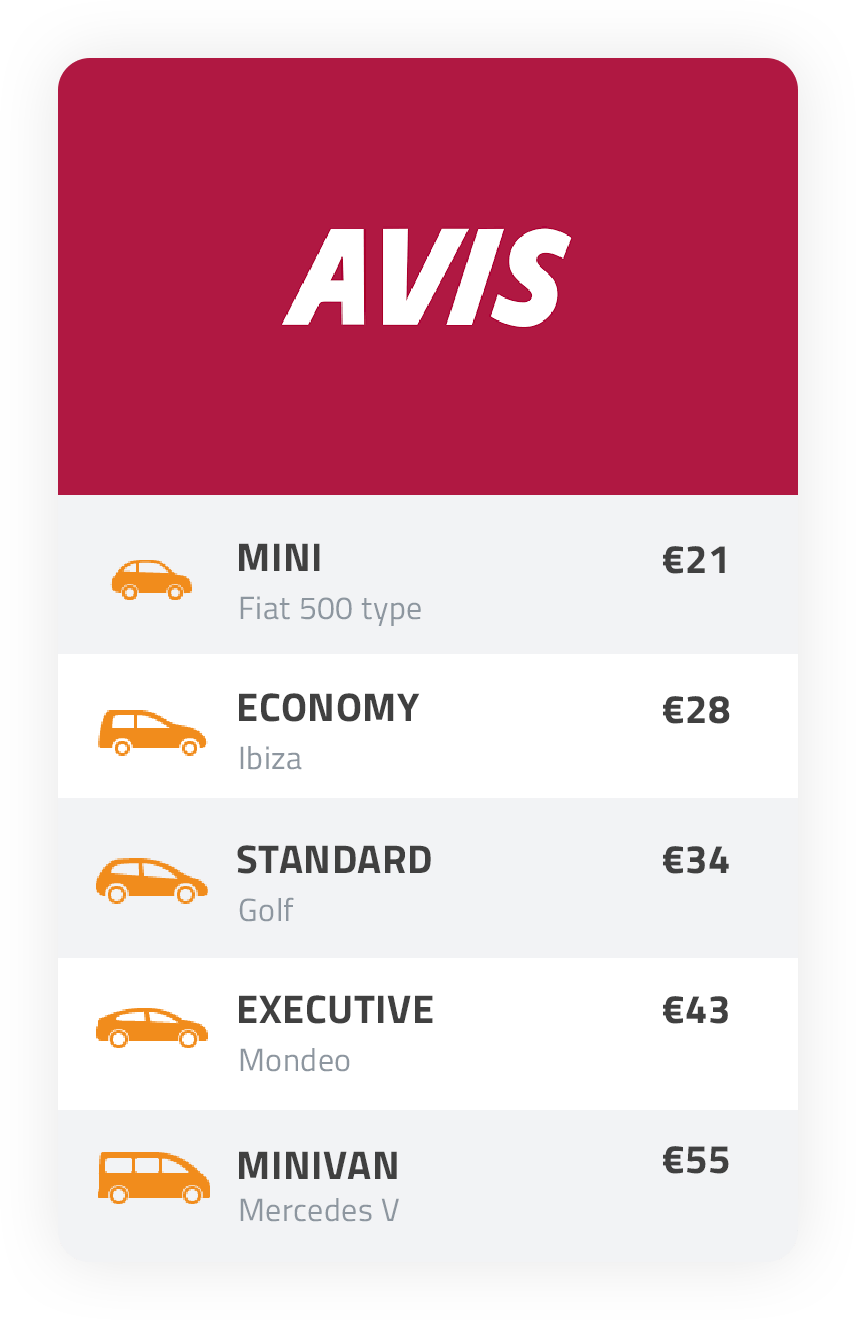 It is good to remember that prices can differ greatly for car hire at Gran Canaria Airport depending on the type of car, the fuel policy, and the season you book.
Be aware that any extras that you choose such as GPS, additional drivers, child seats, and WiFi will normally be added to the daily cost and can make the total price increase considerably.
Choosing car hire
at Gran Canaria Airport
Car hire at Gran Canaria Airport can be one of the best options to explore, enjoy, and discover the island of Gran Canaria. Below is a comprehensive guide to getting the best low-cost offers on your car hire from Las Palmas airport.
What type of car should I hire? That largely depends on how many of you are traveling together, whether you're traveling with luggage, your budget, and where you plan to visit in Gran Canaria. If you simply have hand luggage and are traveling with a small group, cars like the Fiat 500, Peugeot 108, or Toyota Aygo may be the best option. Electric cars are also becoming more popular during 2023 but be prepared to pay a much higher daily rate for this type of vehicle. Automatic cars are also proving to be a popular choice for their ease of driving. For the more adventurous there is the 4×4 rental.
Nearly all of the major car hire companies that operate out of Gran Canaria Airport are anticipating a busy Autumn and Winter for 2023. Road trips around the Canary Islands is certainly trending, and the roads and scenery of Gran Canaria will make any sightseeing road trip an excellent choice. Most passengers that hire a car straight from the airport are opting for the bigger, more luxurious vehicles.
When you get to your car at the parking bay you will have the peace of mind that it has been thoroughly cleaned. Special attention is given to the passenger and drivers area. Once cleaned the car is locked and sealed with a sticker. Returning your car is a simple and hassle-free process. Just park the car in the specified car park area and drop the car keys in the Key Box located in that area.
When to book your Gran Canaria car hire
Pre-book

Online
It will usually take about 60 seconds to find the best rates for car hire at Gran Canaria Airport. Book your car hire online in advance as you will guarantee the best possible prices along with discounted early bird rates. Compare a range of cars and prices between many rental companies using price comparison to have peace of mind you're getting the best deal.
It is also good to remember, "If it seems too good to be true, then it usually is". This applies when it comes to booking car hire. It's important to read of the terms and conditions. Chances are there's a clause in the small print that says you agree to pay excessive rates for petrol or the likes.
On arrival

At Gran Canaria Airport
Car hire rental desks are not open 24/7 at the airport. Remember to check what time you are arriving at LPA airport. Most car hire companies charge an out of hours fee, this is usually after 11pm and before 7am.
Keep in mind that car rental prices are higher when you book on the same day compared to pre-booking ahead of time. So try to plan ahead and save money.
Gran Canaria Car Hire Fuel Policies
Check the car hire company's fuel policy. There are many different fuel policies out there. At the time of booking select your fuel policy.
Your hire car will be supplied with a full tank of fuel. You should return it with a full tank of fuel. Again, they will charge you at the rental desk a higher rate per litre than you would have paid at a local fuel station. A fuel deposit is usually taken. If you return the car full and do not need any fuel to top up, then your deposit will be refunded. Choose your fuel policy wisely as this will, in the long run save you money. What may initially seem like the cheapest option does not work out that way. Generally Full to Full works out the cheapest as this option.
The car upon collection will have a full tank of fuel in it and you should endeavor to return it empty. The advantage of Full to Empty policy not having to worry about filling up as soon as you leave the airport. You need to return the car with an empty tank as you will NOT get a refund for any fuel in the tank. This fuel policy may not be the best for you if you only intend to use the car occasionally.
Your hire car will have a full tank of petrol when you pick it up from Las Palmas Airport and you'll have to pay the full cost for it. Again, the car hire company sets the price of fuel. When you return the car, the cost of the remaining fuel will be calculated and refunded to your card, minus an admin fee according to the rental contract.
Insurance
LPA Car Hire Insurance and Breakdown Cover
The price you see quoted for your car at Gran Canaria Airport always includes basic insurance cover. This will cover you for damage, theft, and third-party cover. It comes with an excess, which means you have to pay an initial contribution towards a claim. That is why many hire companies will ask you to consider Excess Insurance Cover. This is an extra cover you can buy so the rental company does not take anything from your credit card.
Excess Insurance Cover
This insurance cover will either partly or fully cover the cost of the excess in the event of damage to the car. Breakdown cover may also be included, which is a bonus. If you buy it from the rental company, then your credit card will not be blocked for the amount of the excess. Alternatively, if you already have extra Excess Cover with a third-party company, there is no need to buy more. However, the car hire company will still charge any amount incurred for the repair of the car to your credit card. You will then need to claim a refund from your third-party Excess insurance provider.
The comparison website on this page gives you the option to buy Damage Refund Insurance cover. This covers damage, theft, tyres, windows, wheels, key cover, and personal possessions. This will be with a third-party provider and considerably cheaper than what they charge at the rental desk.
Extras
Drivers must be 21 years of age or more. If under 25 years you will likely be charged a supplement. A supplement may be charged to senior drivers. It is a good option to add another driver to the policy so as to share the driving. Any additional drivers will need to bring their driving licence.
Available extras with Gran Canaria Airport car hire:
Petrol Stations
Near Gran Canaria Airport
Airport service stations are never the cheapest. So you're better off filling up at one of these service stations close to the airport instead:

Estación de servicio Cepsa
Aeropuerto De Gando, Lado Aire, 35230 Telde, Las Palmas, Spain This is the closest to the terminal building approx 400m South.
There are other petrol stations near Gran Canaria Airport
El Paso 2000 service station right near the airport just on the GC-191/Av. De Carlos V which is off of Junction 18 and again slightly south of the airport.
Requirements to hire a car at Gran Canaria Airport
Most car hire companies at Gran Canaria Airport won't accept drivers under the age of 21. Anyone aged 21-25 can expect to be restricted to entry-level cars and pay a young driver supplement. Senior driver supplements (generally over 70 years) also exist with age requirements differing from company to company. Some request senior drivers to take out additional insurance.
How to cancel your hire car
Sometimes the unexpected happens and you have to cancel. Canceling the booking within 48 hours of your pick-up time will avoid a cancellation fee. Remember if you bought extra insurance with a third party you need to cancel this also. It is worth checking the company's cancellation policy before you book your car hire.
Pick-up and drop-off times
If you are clever about the time that you pick up and return your car hire then you will likely save quite a bit of money. Most car rental companies charge an out-of-hours fee. This is usually after 11 pm and before 7 am. Check what they charge if they do offer this service and check how frequently their shuttle bus operates. However, be aware that some car hire companies do not offer out-of-hours collection or drop-off.
TIP: Return the car an hour earlier on the day, so your rental period will not go into another day.
So be aware if you're planning on arranging car hire when you land after a late flight, your options are going to be expensive and restricted.
Collecting your car
at Gran Canaria
When it's time to collect your car from Gran Canaria Airport, have your passport, credit card, driving license and booking confirmation (if you booked in advance) handy to speed things up. If you're from the UK, you'll also need to obtain a code from the DVLA and show it at the rental desk.
Please note: This page contains affiliate links. If you choose to make a purchase after clicking gran-canaria-airport.com may receive a commission at no extra cost to you.