Home » Locations » Resorts »
Meloneras Guide
Meloneras is 35 kilometres from Gran Canaria Airport (LPA)
This small resort is a 25-minute journey from Gran Canaria Airport. Situated on the South coast of Gran Canaria the resort of Melonares has come into its own in recent years gaining a reputation of being up-market, classy, and cosmopolitan. As you stroll along the promenade you can see the luxury in the restaurants, wine bars, and cafes. To the West of Melonares you will find a chic marina of Pasito Blanco with a few upmarket restaurants also.
Therefore the resort is mainly suited for those who like to retreat to a quieter resort away from the action of Puerto Rico and Maspalomas.
Beaches
The blue-flag beach here is stunning with 400m of dark golden sand. Perfect for a spot of sun-bathing. There are lifeguards on duty displaying coloured flag warnings depending on the wind direction. The paseo runs along the beach so there is plenty of opportunities to grab some lunch or to cool down in the main quaint bars and cafes lining the paseo.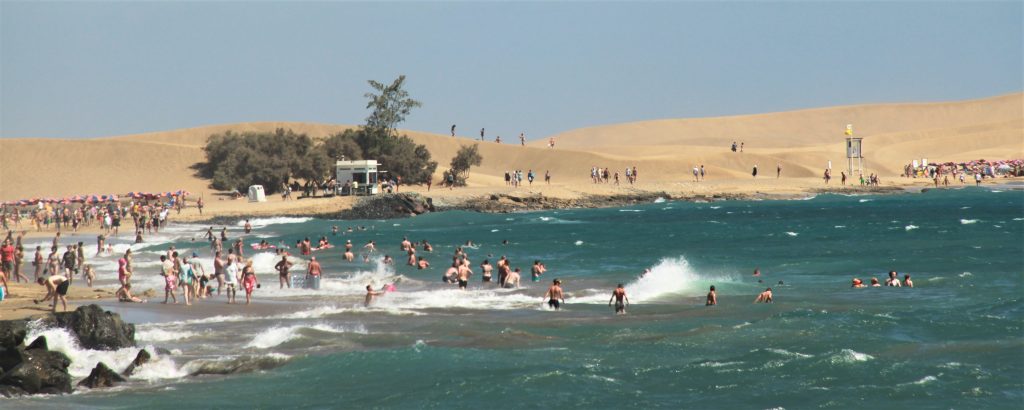 Attractions
So then, as a quieter resort, you would need to go out to the nearby resorts of Maspalomas. There is Aqualand Marina or Sioux City nearby. Nighttime is a popular place in the casino where they have cabaret shows. However, the attractions of Meloneras are the natural ones, the beauty, the beach, the sun-sets. However, there is a fairly new golf course with an attractive clubhouse boasting fantastic views.

Shopping
There is a new shopping centre located here with designer shops, high-end boutiques and brands on offer.
Car Hire
You are usually in a better position to either hire your car when you arrive at the airport or pre-book your car before you travel. For more information on how to obtain the best deals on car hire see our dedicated car hire section.