Home »
EU Cabin Regulations
Just what can you take into the cabin when you board your flight? You may be aware of the weight and size requirements for your baggage but what about the contents? What are the EU cabin regulations?
Cabin Baggage and Liquids
In recent years security regulations for carrying liquids in your hand luggage have changed. You are allowed to take some liquids and these must be screened at the airport before you can board a flight. Here are the following requirements.
Each item of liquid or similar consistency must be in a separate container with a maximum of 100 ml in each.
A few containers must be placed in a clear, re-sealable plastic bag approximately 20cm x 20cm. Often the airport security team provides these bags if needed before you go through the security checks. However, you must be able to seal the bag closed, so do not overfill the plastic bags with too many containers.
The plastic bag must be out of your hand luggage as it passes under the security screen.
Liquids include:
All drinks including water
Perfumes, oils, creams, lipstick, lotions etc.
Toothpaste, Gels, including hair and shower gel
Pressurised containers e.g. deodorants, hair spray etc.
Any other items of similar consistency
Exceptions:
Current guidelines allow you to take enough baby milk, powdered milk, baby food, and sterilized water as are required for your child's flight. You will be allowed to exceed the 100ml allowance for these.
You are also allowed to take essential medicines of more than 100ml in your hand luggage, however, you will require supporting documentation from a doctor or medical professional confirming the contents.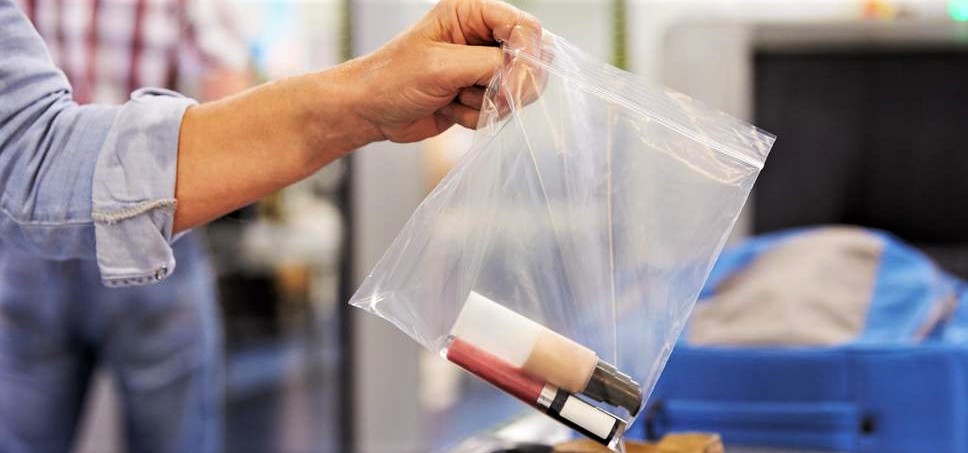 Duty Free
Duty Free item which you have purchased at the airport in the departure lounge after security is allowed to be taken on board the cabin with you. It is good to keep the proof of purchase. However, any alcohol purchased in Duty Free may not be opened or consumed on board the flight. The EU regulations state that any alcohol consumed by you onboard the aircraft has to be served by a certified member of the airline staff.
Electronic Devices & Clothing
All metal and electronic items need to be placed into a separate tray as they go through the security screen. Your coat or jacket. large boots and belts with metal fasteners also need to be placed in the plastic trays before you personally walk through the scanner.
Prohibited items
There are restrictions on items which you can carry in your hand luggage.
Airport security will not let any items through that they consider dangerous and are restricted under the EU regulations.
These are the following items that can only be carried in checked-in baggage:
Corkscrew
Sharp items
Knife (with a sharp or pointed blade and/or blade longer than 6cm)
Knitting needles
Toy guns
Cutlery
Scissors and syringes (except certified for medical purposes)
Catapults and toys that could be used as a weapon
Sports and leisure equipment that could be used as a weapon such as baseball/softball bats, batons, clubs and martial arts equipment.
The following substances are not allowed on board:
Flammable items such as lighter fuel, flammable paints, paint thinner
Explosives and incendiary materials, dynamite, fireworks
Compressed gases and presssurised containers with the exception of personal items or toiletries
Magnetising substances
Flammable or toxic substances
Corrosive and caustic materials such as drain cleaners, car batteries and acids
Poisons such as pesticides and weedkillers.